May 25, 2016 4:18 pm
Many thanks to the team from Carillion,  for their sterling work during the 'give and gain' day at St.George's HUB on the 23rd May.  The team worked like trojans to decorate our premises, which is a wonderful contribution to a small charity working with the most excluded. Special mention to Paul, Rich and Kayleigh at Carillion for their commitment and enthusiasm to make the day such a success.  The clients are delighted with the results and the premises have taken on a whole new dimension.
Huge thanks also to Midland Decorators, for their support and to Keith Macintosh for his work to decorate the outside front elevation of our premises. Tom Evans from  PPG Architectural Coatings kindly agreed to supply the paint.
Thank you all.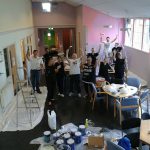 Categorised in: Uncategorized
This post was written by Admin