Hope, Understanding and Belief                                  Registered Charity No. 1072559  
ST.GEORGE'S HUB
St. George's House Charity was founded in 1950 to support the most disadvantaged people in our community. It first registered with the Charity Commission for England and Wales on 26th January 1973 and re-registered 24th November 1998 when it became a company limited by guarantee.
Today, we provide a range of services for vulnerable and socially excluded men, with a special focus on homelessness. Our unique service operates independently for the resettlement and support of people who were, are or risk being homeless, or who are socially excluded.
We employ 4 dedicated staff, overseen by a board of local Trustees, with a wide range of skills and experience. We also have a team of volunteers who provide holistic support at the Hub. We are located five minutes walk from Wolverhampton City Centre.
Where to find us: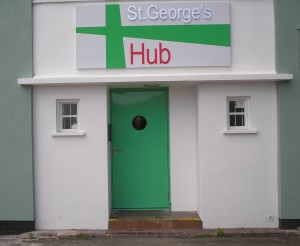 St. George's HUB,
St. Mark's Road,
Chapel Ash,
Wolverhampton,
WV3 0QH.
+44 01902 421904
e-mail : info@st-georges-house.org.uk
Why we are Unique
St. George's is the only organization in Wolverhampton that provides a one-stop-shop of support, utilizing the expertise of different services to compliment its own. We know that there is no duplication of our work in Wolverhampton as there is no comparable provision.
Who can use the service:
Anyone who is vulnerable and socially excluded, or who is, was, or could be at risk of being homeless. St. George's is best known for its expertise in working with highly marginalized people.
How to find us: